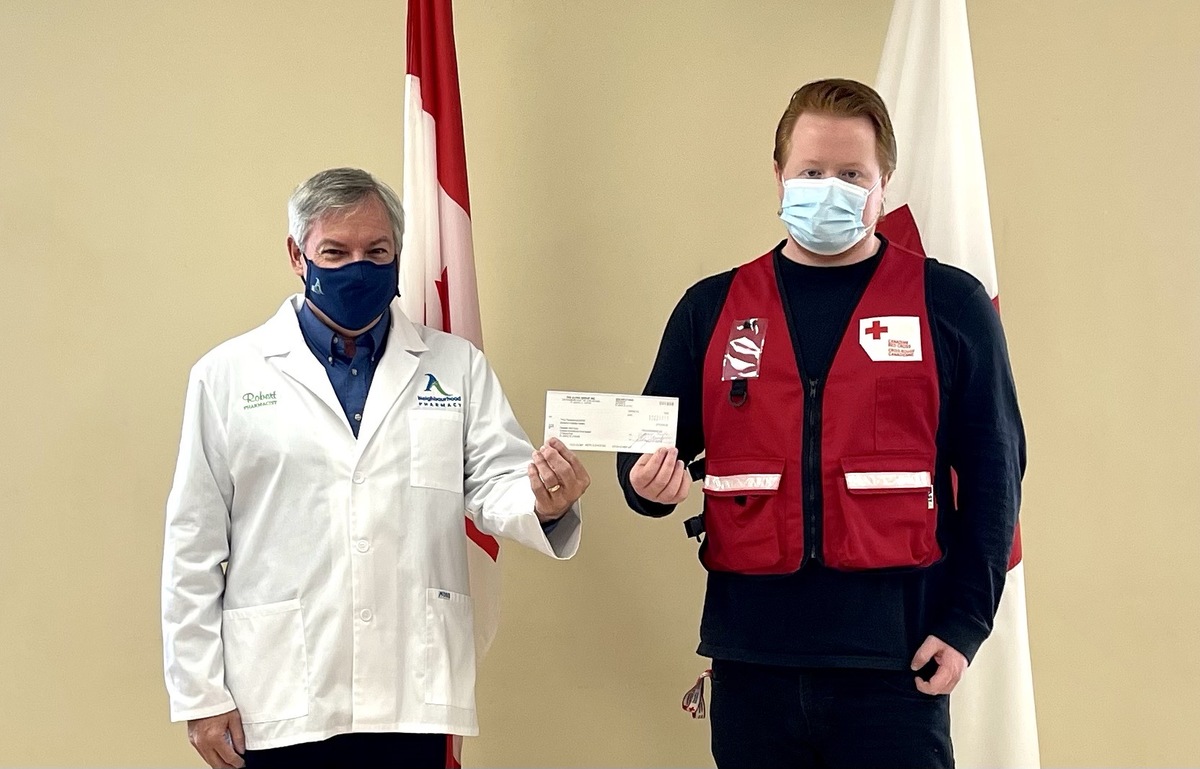 Alpha Group Supports Humanitarian Aid for Ukraine
ST. JOHN'S - The Alpha Group of Pharmacies announced a donation of $5,000 to support immediate humanitarian efforts in Ukraine. On March 11th, Robert Doyle, President of The Alpha Group (pictured left) provided a cheque to Reid Eyre, Emergency Management Coordinator at Canadian Red Cross NL (pictured right) at their Major's Path office for the Ukraine Humanitarian Crisis Appeal.
Mr. Doyle is a pharmacist and pharmacy owner in St. John's, who like many of his colleagues, watched the war and aggression against Ukraine unfold before the world. He stated, "As we see pharmacies in Ukraine remain open to provide essential medications and services to their community, our pharmacy community here at home wants to show support for Ukrainians and our pharmacy colleagues who continue to operate pharmacies in these traumatic times." The donation by The Alpha Group of Pharmacies was made possible through the support of our pharmacy owners who are members of the Group.
Avalon Drugs – Bay Roberts
Baccalieu Trail Pharmacy – South River
Baccalieu Trail Pharmacy – Spaniard's Bay
Baltimore Pharmacy – Ferryland
Chapel Arm Pharmacy – Chapel Arm
The Dispensary – Avondale
Family Drug Mart – Bell Island
Family Drug Mart – St. John's
Grand Falls Drug Store – Grand Fall-Windsor
Health-e Choice Pharmacy – Clarenville
The Medicine Cabinet – Port aux Basques
Metro Pharmacy – St. John's
Neighbourhood Pharmacy – St. John's
Pouch Cove Pharmacy – Pouch Cove
The Prescription Centre – Western Bay
Shea Heights Pharmacy – St. John's
Skinner's Pharmacy – Stephenville Crossing
Smallwood's Pharmacy – Port Saunders
Tricon Pharmacy – Old Perlican
Villa Nova Pharmacy – Conception Bay South
Virginia Park Pharmacy – St. John's
Welsh's Pharmacy – Heart's Delight-Islington
Whitbourne Drug Mart – Whitbourne
White Rose Pharmacy – St. John's
The Alpha Group of Pharmacies encourages other pharmacy organizations to help support relief efforts by donating to the Canadian Red Cross. The Government of Canada will match 100 per cent of donations made for the Appeal up to a maximum of $30 million.
About The Alpha Group
The Alpha Group is an independent pharmacy ownership group in Newfoundland and Labrador providing patients, clients and community with essential health care services.
https://vocm.com/2022/03/20/pharmacy-ownership-group-pledges-support-to-ukraine/